TECHNICAL INFORMATION SHOWER TRAY
MATIS

Light -30 %
from usual weight

Extra-flat
Anti-slip

Cut-out
Supports
repairs
Syphonic
valve included

Antibacterial
Easy
cleaning
Ecological
material
Optional
gratings
Optional
Ral finis
5 years
guarantee
DIMENSIONS (cm)
CUT TO SIZE:
Only available cut lengthwise.
We recommend cutting the tray in situ.
DRAINS
Height
GRATINGS
Resin grating as standard
GRATING:
Grating is supplied in the same colouras the shower tray.
QUALITY AND CERTIFICATES
UNE-EN 14428:2016
Bath enclosures
CE Declaration
of Conformity
ISO 9001: 2015
Quality
Management System
UNE 166002: 2014
R&D&I management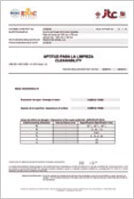 UNE-EN 14527:2006
+ A1:2010
Shower trays
AITEX:
Slate finish
slip
AITEX:
Solidtek finish
slip
AITEX:
Stone finish
slip
Own laboratory for quality control
We have our own laboratory where we carry out quality control testing of the different components:
Corrosion testing.
Salt spray tests on each batch of metal and plastic components 240 hours.
Periodical testing of humidity and dryness cycles on all components. 50 cycles for a trial duration of 1 month.
Annual testing of chemical agents.
Trials with cleaning products.
Abrasion testing (5000 cycles) to simulate cleaning and maintenance of the shower tray.