An intelligent solution for creating a storage area in your bathroom by maximising space and minimising re-design work.
Now, thanks to Konvert Solution, the made-to-measure solution from Profiltek, you can replace your bathtub with a shower tray and simultaneously create a highly useful storage area.
Tailored to your needs
Turn your old bathtub into a new shower space with a large area of storage.
An integral solution for easy installation, minimising the negative impact of necessary work.
A wide variety of enclosure models and finishes to choose from to entirely personalise the space.
A solution entirely made to order, capable of being adapted to any space and includes the complete Konvert Solution kit.
The Konvert kit
Made-to-measure sliding, swinging or folding enclosure.
Shower tray cut to size.
Made-to-measure storage unit made from tempered glass, with a matching door and shelving.
Tray | Features

Light -30%
from usual weight.

Extra-flt
Anti-slip

Cut-out
Supports
repairs
Syphonic
valve included

Antibacterial
Easy
cleaning
Ecological
material
Optional
gratings
Optional
Ral finis
5 years
guarantee
Texture as the shower tray
Stone
Main colors
Black
Anthracite

Grey
Zinc

Moka
Cream

Pearl
White
Optional Ral finis
Gratings
STANDARD
Stainless
OPCIONAL
Painted
Resin
Features
Frontal enclosure with hinged closet door.
6mm thick safety glass.
Closet with two shelves and top panel in Acid finish.
Door handle Turin as standard in Glossy Chrome finish.
Separation panel in 6mm and acid finish.
Wall profile with an ofset of up to 20mm.
20mm offset for fied side panel.
Equipped with an overlapping closure.
Profile base in Glossy Chome finish.
Multi-positional stabilising bar in Glossy Chrome.
Various profile finishes accding to the enclosure model.
Optional finishes
Mirastar mirror Glass for the closet door.
Tecknoclean treatment.
Special glasses.
Special Sandblasted glasses.
Imagik decorated glass for both the enclosure and closet.
1 or 2 optional additional shelves in Acid finish.
Oxford door handle.
TRANSFORM YOUR BATHROOM IN 3 SIMPLE STEPS
The installation requirements and taking of measurements to completely personalise the Konvert Solution require establishing a basic calendar.*
Select the finish and size o your KONVERT* shower tray.
Install your tray and provide us with the dimensions of your space.
Install your enclosure and closet.
It's that easy, that fast.
*The Konvert configuations (enclosure + store space) are only available for the Konvert shower tray. The use of this set is discouraged for any other shower tray than Konvert.
KONVERT LAYOUTS | TYPES OF OPENINGS
A completely made-to-measure solution with various types of openings to adapt to any client's space.
HIT - Sliding enclosure
NEWGLASS - Swinging enclosure
NEWGLASS - Folding enclosure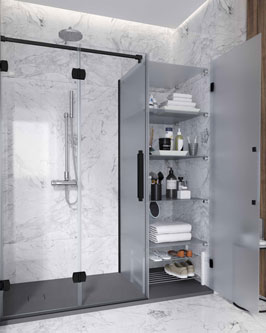 ARCOIRIS PLUS - Folding enclosure
QUALITY AND CERTIFICATES
UNE-EN 14428:2016
Bathroom enclosures
CE declaration
of conformity
ISO 9001: 2015
Quality management
system
UNE 166002: 2014
R&D management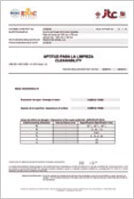 UNE-EN 14527:2006
+ A1:2010
Shower trays
AITEX:
Slip resistance for
slate finish
AITEX:
Slip resistance for
Solidtek finish
AITEX:
Slip resistance for
stone finish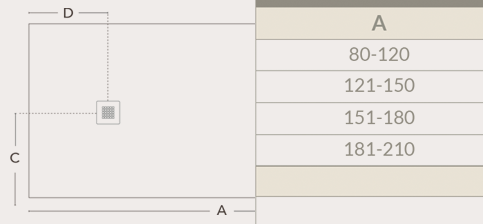 TECHNICAL INFORMATION
Detailed information about all of the options provided by Konvert Solution.
THE BEST SOLUTIONS IN FINISHING TOUCHES FOR YOUR SHOWER SPACE